ST. ALBANS — The sun had barely been up an hour Thursday when I walked into the culinary arts lab at the Northwest Career and Technical Center to find Adam Monette deboning a fish.
In a few minutes, his Culinary I students would arrive in class, so he took advantage of this rare moment of alone time to make sardine rillettes. On the preparation table in front of him, the dough of several loaves of country bread was also rising, and the mixture for a country pie lay in a mixing bowl.
As we talked, he seemed to barely look down at the fish in his hands, deftly removing the meat from the bones without breaking eye contact with me.
A few months ago, Adam Monette might have been known to few outside of St. Albans, where he has lived and taught for about the past decade. But today, after television beamed him and his culinary creations into living rooms, he's a household name in Franklin County.
In December, Monette won Food Network's Holiday Baking Championship, an eight-episode reality competition series that pits 12 of the nation's top bakers against each other for $25,000 and a spot in Food Network magazine.
During the competition, I interviewed Monette twice by telephone. He graciously took my calls between classes at NWCTC, and I always had more questions than the allotted time.
Passionate about home cooking, I wanted (perhaps selfishly) to hear the finer details of his culinary career and what he sees himself doing next (Response: "I wouldn't say no to more TV. I would for a while). a quarter of what Bobby Flay would ask.")
Where does he go when he wants a good croissant? (Montreal) And which cookbook does he turn to for inspiration? ("French Pâtisserie" by the chefs of Ferrandi Paris).
I also wanted a behind-the-scenes look at who he is every day — without the TV cameras. Fortunately, my job often allows me to get the answers to these questions.
On Thursday, when a group of 10 high school sophomores walked into the adjoining culinary arts lab classroom, I sat to the side. I studied the "Encyclopedia of Pasta" poster on the wall while swinging my notebook on my knee. Monette soon appeared behind her desk, immediately catching the attention of the room.
In class with Adam
What might surprise people, Monette said, is that despite his formal baking training and participation in a popular baking contest, he doesn't get many opportunities in class to roll out pie dough. or ice cream cakes.
The NWCTC Culinary Arts program lasts two to three years and is open to students entering their second year. The program works in all areas of catering and restaurant management and aims to prepare students to enter the workforce or enroll in post-secondary studies.
While in Culinary II and III students are introduced to a la carte cooking and front desk management, in Culinary I students begin the full year class learning basic knife skills and how to make broths and sauces.
"It's a lot of carrots and onions, onions and carrots," Monette said with a laugh.
The second half of the year is primarily spent preparing students for the state-required food service manager certification exams, for which training is provided by the National Restaurant Association's ServSafe program.
On Thursday morning, Monette introduced the class to various elements of food safety, including sanitation and contamination. He asked students how long cold foods could be left out of the refrigerator and at what temperature hot foods should be reheated. He showed how to transport dishes and how to set tables.
Monette was friendly, agreeing with the students that these lessons aren't the most exciting part of food service. He too would prefer to be in the kitchen.
"But they will help you put your best practices in place, which will protect you and the staff you work with," he said.
"A place that is an extension of myself"
After a morning of trucking through the food security pods, at 1:50 p.m. Monette was back in the kitchen, students from her nearly hour-long elective class surrounding her.
"Can someone tell me what herb is here?" he asked, passing a jar of pickled carrots.
"It tastes sweet," said one student. "Is it mint?"
"No, but you're close," he said smiling. "Does anyone taste like licorice?"
The students nodded. In the corner of the room, I stood, racking my brains.
"It's hyssop," he said. "A perennial plant of the mint family. Grown right here by students last year.
Each winter/spring semester, Monette teaches The Kitchen Garden, an elective course open to all Bellows Free Academy-St. Albanian students. Participants take care of the school garden and learn to cook what they grow.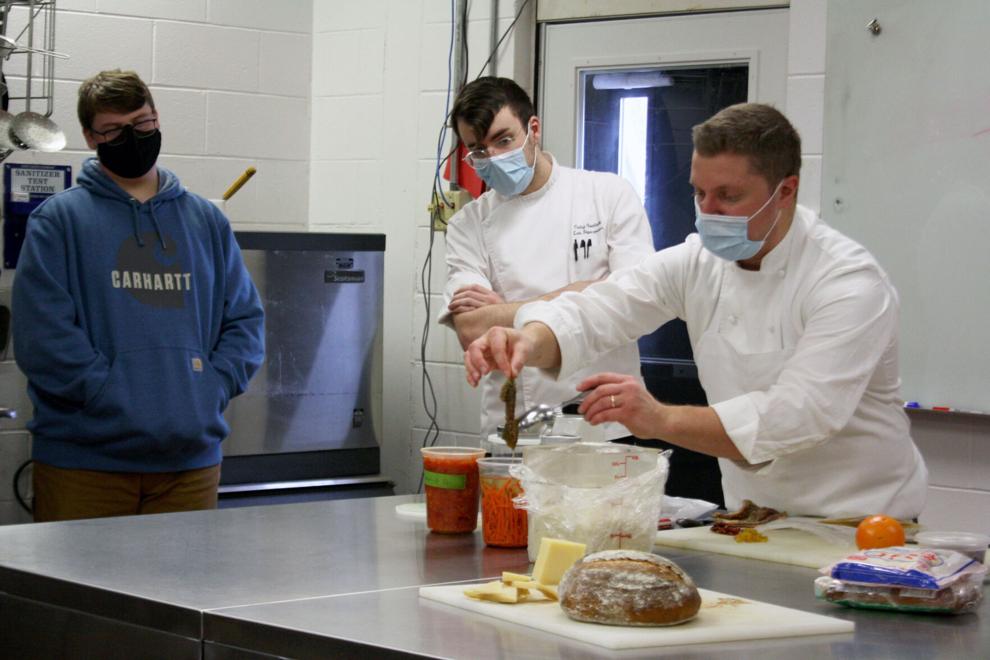 On Thursday, Monette talked to the students about various types of preservation – such as pickling, drying, curing and smoking. He opened a jar of candied tomatoes, cut a piece of cheese and unwrapped a piece of pancetta.
"I feel like the person at Costco handing out samples," he laughed. "But you can't cook good food until you taste good food."
Just like you need deep vocabulary to write a great sentence, you need a wide palette to dine well, he said.
Cousins ​​Lily O'Neill and Jenelle Hardy said they signed up for the course because gardening was a big part of their shared childhood.
"Our grandparents are gardeners, so we have lots of memories of picking beets with Grandpa and making pickles with Grandma," O'Neill said.
Hardy agreed and added that she felt the need to expand her cooking skills.
"We're old people and we'll be on our own soon, so I'd like to learn how to cook healthy food for myself," she said.
For Monette, working with motivated and genuinely interested students is one of the best parts of the job. Colby Ouellette, now his lab supervisor, was one such student. Caitlin Fortin, owner of Mother Hubbard's bakery and general store, was too.
"You can tell, almost immediately, a student's trajectory," he said.
While creating the culinary arts program at NWCTC and the success of so many of his students has been gratifying, Monette said the Food Network challenge showed him he was capable of doing more.
During the summers, he returns to work in restaurants to "keep up to date" with the latest food trends. Last summer, he was supposed to run the Shore Acres kitchen at North Hero – but Food Network called.
In recent years, he has worked at Margot's Bistro in Burlington as well as the now closed South End Kitchen. He also spent a summer at Red House Sweets in St. Albans, doing all the bakery laminations for pies and croissants. Many of his recipes are still used there today.
"I want a place that's an extension of myself," he said, admitting he was starting to dream of opening his own restaurant. "The problem is that I have too many interests."
After an hour of tasting and laughter, the bell rang and the students quickly grabbed their backpacks. Monette and I were then alone in the kitchen, the smell of this French country bread escaping from the oven.
"Do you want to take home a loaf of bread, Bridget?" He asked.
I thought about it for a while, then I thought, you know what, yeah. Yes I would like.
The bread sat in a brown paper bag on my desk at the office for the rest of the day, torturing me with its smell. I enjoyed it later, standing in the kitchen waiting for the pasta water to boil.