Photo of Lee Breslouer and Cole Saladino for Thrillist
It's Girl Scout Cookie season, and our country's brightest and brightest young women are selling their baked goods to any American looking to earn a badge of merit by shamelessly housing an entire box of Thin Mints. It's also the time of year when adults get into heated debates over which cookie is the best. Well, we're adults here too. And with new flavors – like Adventurers – rivaling old ones, we decided to obey the oath and make the world a better place… by ranking them all.
9. Toffee-tastic
There is only one pouch of these when you open the ultra-thin box. It's like the Girl Scouts saying, "We know you're not going to like this, or we'd have gone all out." They taste a bit sandy.
8. Lemonades
Despite their weird taste, these citrus shortbread cookies are somehow unstoppable.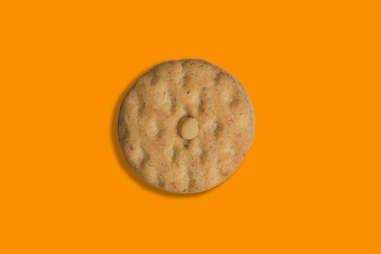 7. Do-si-dos/peanut butter sandwich
Do-si-dos start out a lot like the Lance Toast Chee Peanut Butter Sandwich Crackers that were popular at my college. The aftertaste is very similar to those Toast Chee crackers too. They're lucky I don't mind a Toast Chee once in a while. But seriously, did a Girl Scout accidentally pack Lance ToastChee crackers in my Girl Scout cookie jar? No. No, she didn't, because Girl Scouts don't work on the assembly line in a cookie factory. It's exactly the taste of Do-si-dos. It's a cookie that doesn't taste like a snack-based dessert.
6. Caramel chocolate chips
For the little scout with celiac disease, the caramel chocolate chip render offers a treat that tastes a bit like a granola bar. But now she also has to deal with other scouts who claim to follow a gluten-free diet just because they think it's healthy. So… call it a wash?
5. Adventurers
These cookies are described as brownie-inspired, which is a little misleading due to their dry and crumbly nature. There is a dusty cocoa flavor but not the rich fudge you expect from a brownie. If the creme au caramel on top was gooey, similar to the stickiness that coats Samoas, perhaps this cookie would rank higher and provide some textural contrast. Instead, the cream is a bit dry as well as a note-a sugar-only taste, and not the rich depth you'd want in anything caramel flavored.
4. Clovers/Sabs
When does someone eat shortbread? When it's Girl Scout Cookies season, and at no other time. Let's take a moment to exalt the simple existence of this shortbread biscuit, a snack-food version of the Yeti.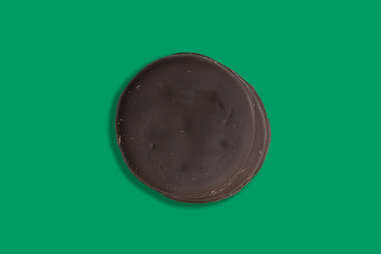 3. Fine mints
The crispness of this wafer – Girl Scouts don't call it a cookie on the box, strangely – is the secret to why it's so good. Its thinness gives the impression that it is barely there. It takes minimal effort for the wafer to yield to your mouth, and in no time, a bite of mint is permeating that place where your taste buds live. It only loses points because it denies it's a cookie. And when I buy Girl Scout Cookies, I expect to eat cookies. On the other hand, it is the best wafer you will ever have in your life.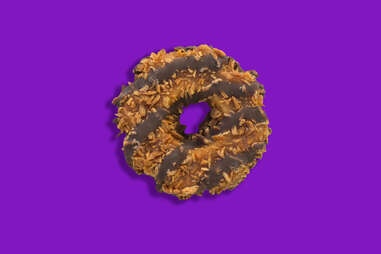 2. Caramel Samoas/Delites
As a child, I hated anything with coconut in it – it was like math homework for my taste buds. Now I eat food prepared with coconut oil and drink coconut water like I live in Thailand and it's cheap (unfortunately I don't live in Bangkok, and it's not not cheap). But I have always loved Samoas. They were the exception to my coconutless childhood. As an adult my love for Samoa has only grown as it combines dark chocolate, toasted coconut and a holey cookie. For some reason, the hole adds to the magical quality of the cookie. It's no bigger than my palm, and yet girl scouts stiffen me on the environment of a cookie?! This makes me love the cookie even more. And it's a real cookie. So…in your face, Thin Mints.
1. Tagalongs/Peanut Butter Patties
The Tagalong isn't just the best Girl Scout cookie, it might just be the best cookie ever made. Think about what happens in a Tagalong: you have a layer of crispy cookies, a layer of soft cookies, a layer of peanut butter, and then it's all covered in chocolate. It's basically a Reese with better mouthfeel – and you get 15 in one pack! Speaking of which, if Reese wants to release a 15-pack, I'd welcome it with open, limp arms.
Tagalong is a multitude of flavors and textures that combine to form something truly greater than the sum of its parts. You can have your Thin Mints, Samoas and Trefoils – I don't blame you, they're all delicious. But the Tagalong is the best Girl Scout cookie ever, and it will continue to be until chocolate and peanut butter stop being the best flavor combination ever.
Lee Breslouer is a senior writer for Thrillist and now has plenty of Girl Scout Cookies in his pantry. Follow it to sugar highs: @LeeBreslouer.
Kat Thompson is a senior writer at Thrillist. Follow her on Twitter @katthompsonn.