"Their slightly cracked exterior belies the moist, tender, creamy interior," says Brian Levy
Reviews and recommendations are unbiased and products are independently selected. Postmedia may earn an affiliate commission on purchases made through links on this page.
Content of the article
Our cookbook of the week is Good & Sweet by Brian Levy. Over the next three days, we'll feature more recipes from the book and an interview with the author.
Content of the article
To try another recipe from the book, check out: Gooseberry Parfaits and Pistachio Cake.
Content of the article
Buckwheat and chocolate make excellent partners. Here, Brian Levy combines toasted gluten-free flour with the earthy richness of cocoa in cylindrical, buttery cookies.
The author and pastry chef lived near Brooklyn's Bien Cuit bakery, which inspired this recipe. "They had chocolate buckwheat cookies and I loved them. And I based this recipe on my memories of them," says Levy.
"On the outside they're crumbly, but inside they're almost chewy and look like brownies. Buckwheat helps achieve this combination.
Levy's first cookbook, Good & Sweet, features 100 naturally sweet dessert recipes. Unlike most recipes in the "naturally sweet" category, it uses no cane or coconut sugar, molasses, honey, maple or agave syrup, or lemon juice concentrate. fruits. He also avoids sugar substitutes such as stevia.
Content of the article
Instead, Levy relies on fruit in various forms and "unexpected" sweet ingredients. These savory chocolate buckwheat biscuits, for example, get their sweetness from dates and a dusting of powdered milk. The latter not only adds a touch of softness, it also serves an aesthetic purpose.
Flavor wins when you replace sugar with fruit and "surprisingly sweet ingredients"

Cook this: Good & Sweet Pistachio Cake
As the demerara and powdered sugar were no longer on the table, Levy looked for other ingredients to use as toppings. Powdered milk, sea salt flakes, bee pollen, coconut flour, and powdered freeze-dried fruit (and corn) add color, flavor, and visual interest.
"When you're not using powdered sugar to dust everything, you have to find other ways to garnish things and give them that prettyness. And this recipe showcases it with the powdered milk," says Levy. "And then there's the Maldon salt, which always gives a lovely crystal-clear finish."
Content of the article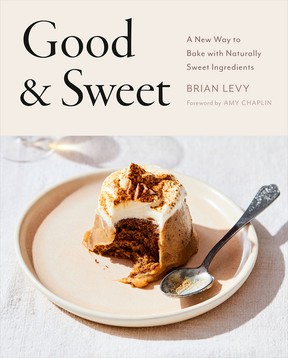 BUCKWHEAT COOKIES WITH SALTED CHOCOLATE
GF
Active time: 25 minutes | Total time: 1 1/2 hours
140 g (1 cup) Medjool dates, pitted and chopped, at room temperature
2 1/2 tsp. 2 tbsp (10 g) Dutch cocoa powder
8 c. (114 g) unsalted butter, at room temperature (see note)
1/4 teaspoon vanilla extract
1 cup (115g) buckwheat flour
1 1/2 teaspoon baking powder
1/2 teaspoon espresso/instant coffee powder
Barely 1/2 cup (80 g) unsweetened chocolate, chopped
Maldon salt, for sprinkling
Powdered skimmed milk powder, for sprinkling (see note)
Step 1
In a food processor, puree the dates, cocoa powder, butter and vanilla until smooth, stopping to scrape down the sides with a rubber spatula if necessary. It may take up to 5 minutes. Add the flour, baking powder and espresso powder and mix until you get a very smooth batter. Add the chocolate and mix again until the batter is smooth (you want the chocolate to be broken into small pieces). Scrape the paste onto a large piece of parchment and shape it into a rectangular mass, roughly resembling a building brick. Wrap it tightly and refrigerate it for at least 30 minutes.
Content of the article
2nd step
Once the dough has cooled, place a rack in the middle of the oven and heat the oven to 375F (190C). Line a 13 x 18 inch half baking sheet with parchment paper.
Step 3
Use a sharp knife to divide the dough in half. Press down with your hands to coax each half into a large, rough log. Use your fingers and palms to roll and refine them into smooth 1 1/4 inch diameter logs. Use a sharp knife to split the logs in half. Continue dividing each piece in half until you have 8 pieces per log, for a total of 16 pieces. Arrange the cookies, flat side down, on the lined baking sheet. (The biscuits won't expand much during baking, so they can be placed an inch apart.) Sprinkle a few flakes of Maldon salt on top of each biscuit, then sprinkle lightly with milk powder using a fine-mesh sieve (or—carefully—your fingers).
Content of the article
Step 4
Bake cookies for 10 minutes. Transfer them to a cooling rack.
Step 5
Try to wait at least 30 minutes to eat them or they will be a bit crumbly. Store in an airtight container at room temperature for up to 3 days. Uncooked logs of dough can be wrapped and refrigerated for up to 4 days or frozen for up to 3 months. Slice and bake the dough straight from the fridge or freezer; no thawing is necessary.
Makes: 16 cylindrical cookies
To note: To make this recipe vegan, replace the dairy butter with vegan butter and omit the milk powder.
Recipe and image taken from Good & Sweet. Copyright © 2022 by Brian Levy. Published by Avery, an imprint of Penguin Random House LLC. Reproduced by agreement with the publisher. All rights reserved.