After making Michelle Obama's Chocolate Chip Cookies, I was convinced that it was impossible to fit more goodies in one batch of cookie dough. That was until I discovered Kristen Bell's version on TikTok. While the former First Lady's recipe is "everything but the kitchen sink," Kristen's recipe goes "from balls to kitchen walls." It's packed with pretty much every ingredient you can imagine in a cookie, and it can also be easily made gluten-free.
Kristen's Everything Cookies start out as a basic cookie dough with butter and brown sugar, but quickly go left as she adds a whole teaspoon of vinegar. It might make you do a double take for adding vinegar to a dessert, but just trust the process. Vinegar is actually a common substitute for yeast, and while it's usually used as a leavening ingredient in bread rather than cookies, from the taste of those, it's safe to say that Kristen knows what she does.
The base flavor of the batter is reminiscent of a classic snickerdoodle, as Kristen uses vanilla, cinnamon, and nutmeg, then adds an extra splash of natural sweetness from agave nectar and applesauce. Cookie recipes typically use either applesauce OR egg – depending on whether it's vegan or not – but this one uses both. It also has three other mixes – chocolate chunks, butterscotch chips, and oatmeal. The end result is a unique and delicious oatmeal-snickerdoodle-chocolate-chip-cookie hybrid. And don't be intimidated by the sheer volume of ingredients in this recipe, because the more you build on flavor, the tastier they'll be. Get your glass of milk ready and keep reading to see how to make these incredibly soft, chewy and delicious cookies.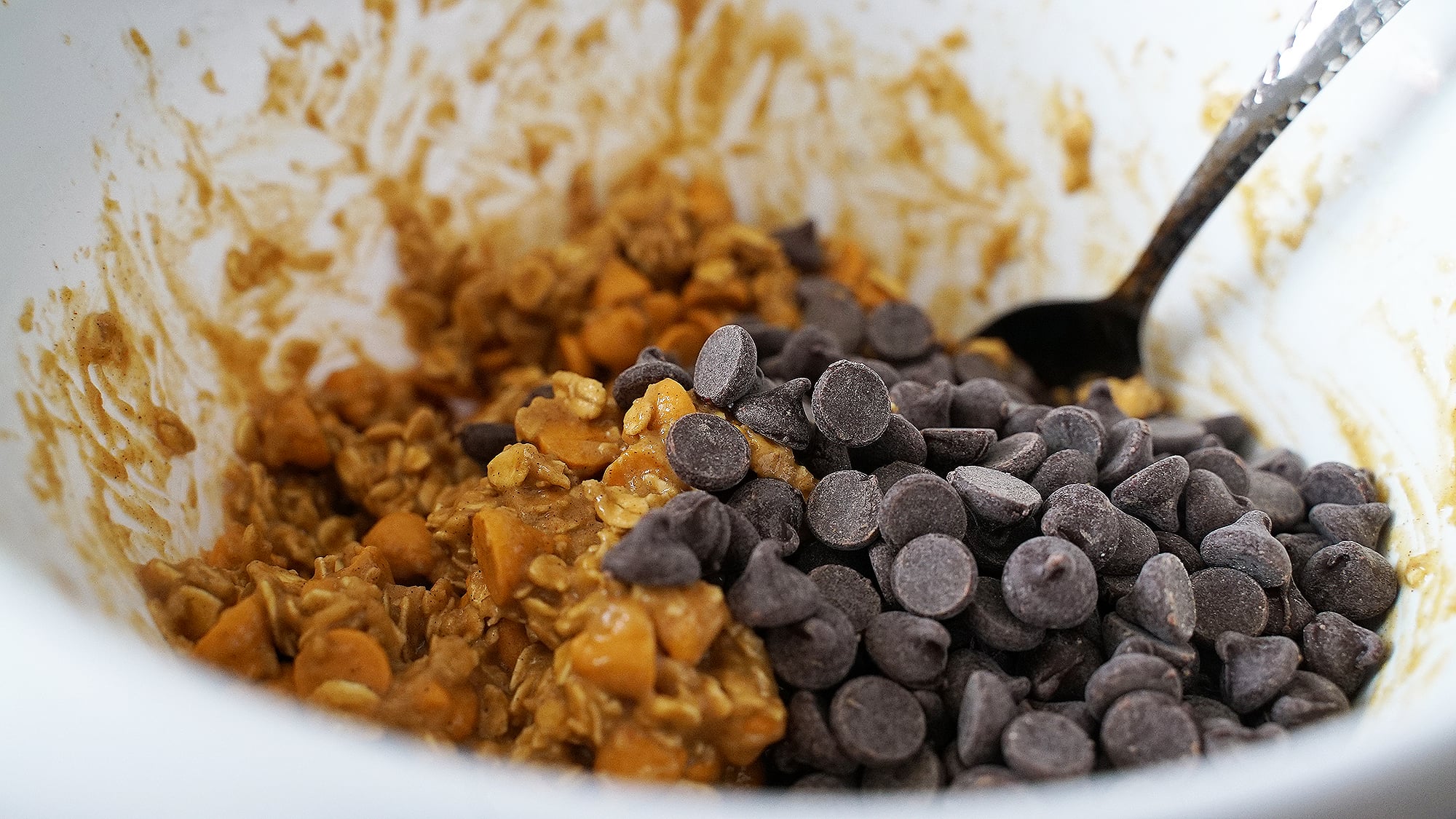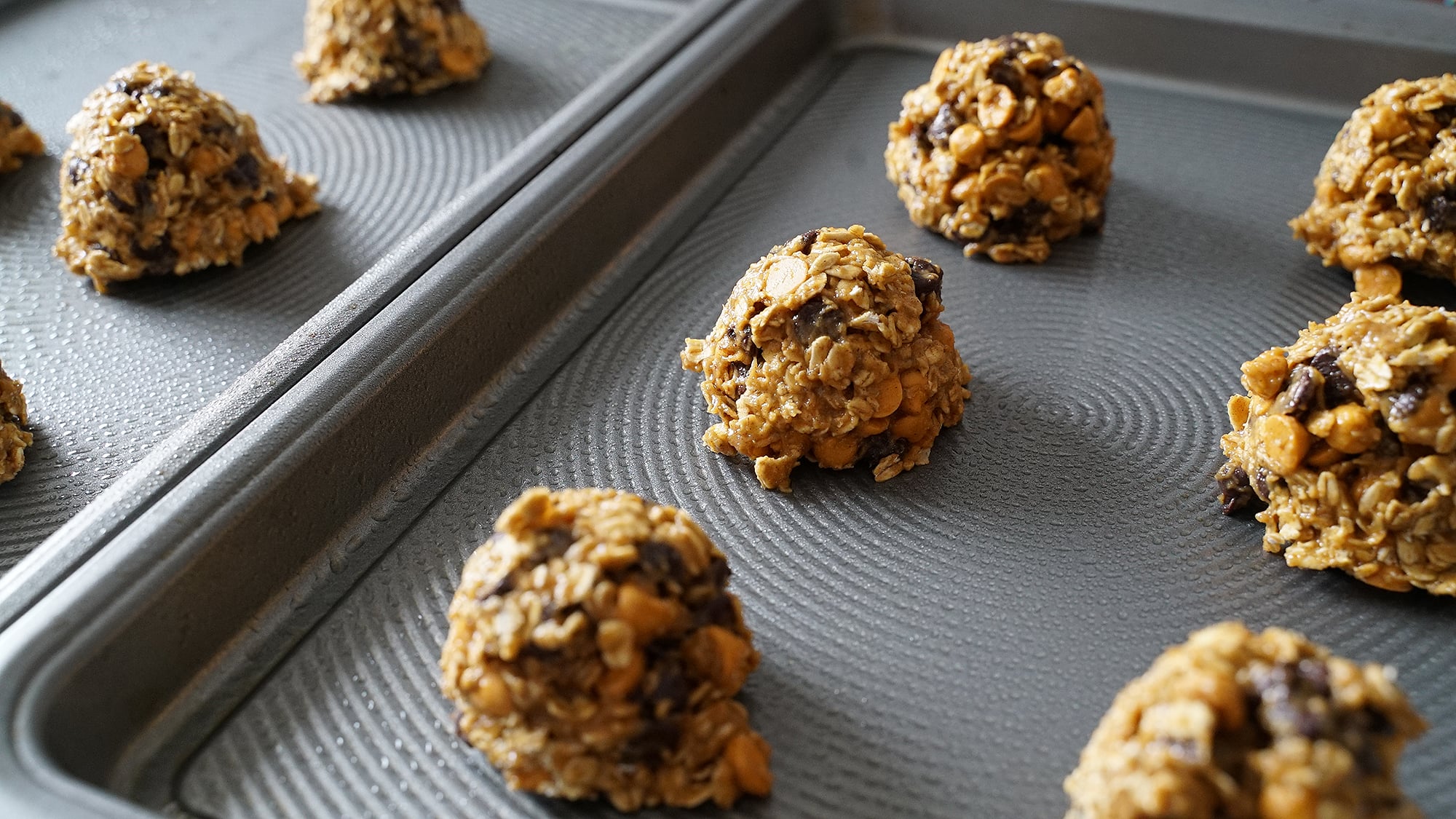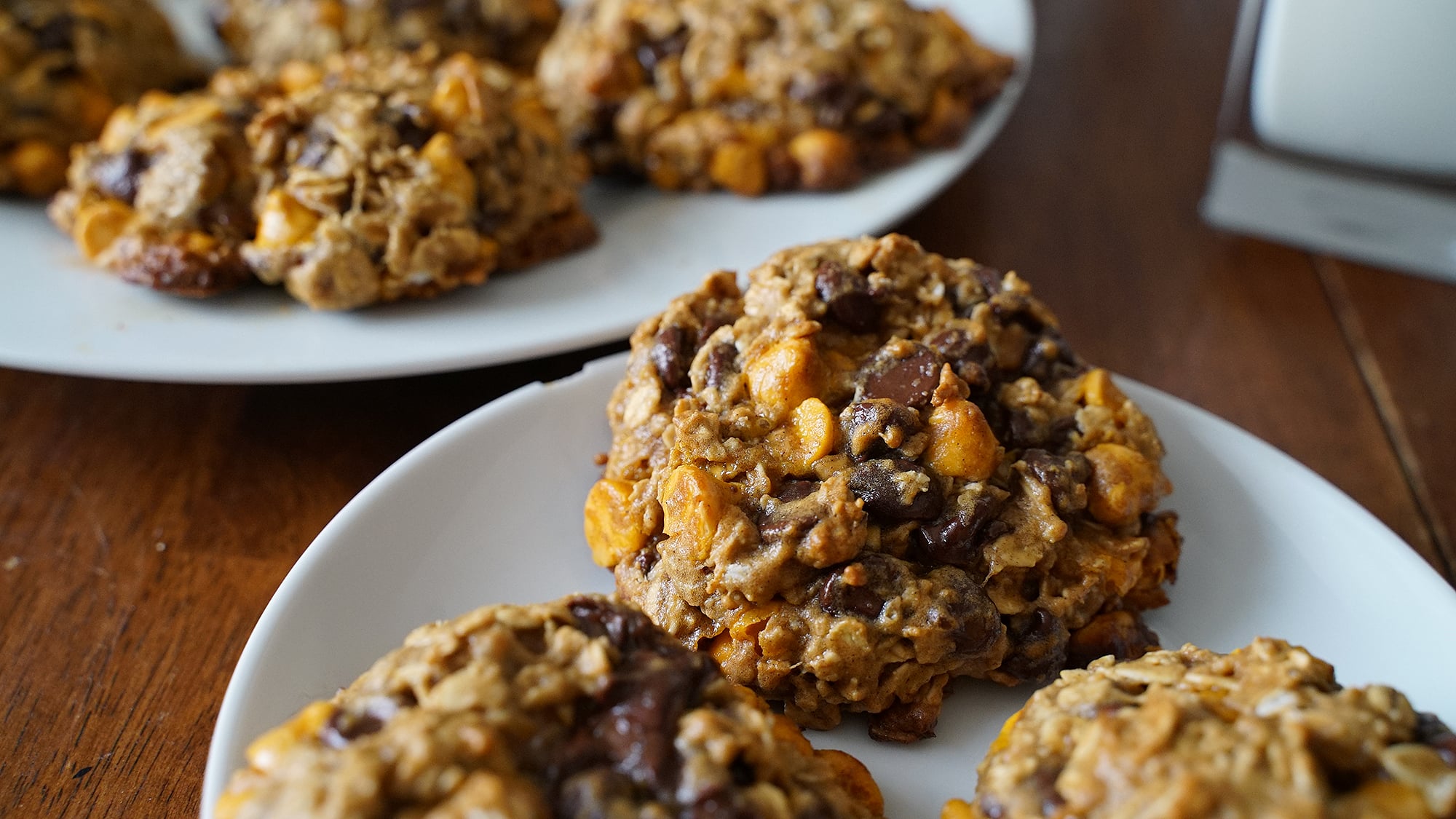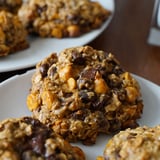 Ingredients
4 tablespoons unsalted butter
1/4 cup unsweetened applesauce
1/2 cup light brown sugar
1/4 cup agave nectar
1 teaspoon vanilla extract (Nielsen-Massey vanilla extract for the gluten-free version)
1 1/4 teaspoons ground cinnamon
1/8 teaspoon ground nutmeg
1/2 teaspoon of salt
1 teaspoon vinegar (white or apple cider works)
1 large organic egg
1/2 teaspoon baking soda
3/4 cup unbleached all-purpose flour (use 3/4 cup coconut flour for the gluten-free version)
1 1/2 cup rolled oats (Bob's Red Mill Gluten-Free Rolled Oats for the gluten-free version)
1 cup semi-sweet chocolate chips
1 cup caramel chips (Guittard Butterscotch Baking Chips for the gluten-free version)
directions
Preheat the oven to 350 degrees and line two baking sheets with parchment paper. Beat together the butter, applesauce, sugar and agave nectar, vanilla, cinnamon, nutmeg, salt and vinegar until fairly smooth. Then beat the egg until smooth.
Add baking soda and flour and mix well. Add rolled oats and both types of chips, stirring to combine.
Drop balls of dough about two level tablespoons (using a tablespoon, not a tablespoon) onto cookie sheets. Space the cookies two inches apart – leave plenty of room as they will spread!
Bake the cookies for 12 to 14 minutes, inverting the molds halfway through cooking (grill top to bottom, bottom to top). For softer cookies, cook for less time; the crispier it is, the longer it takes. Cool the cookies on the baking sheet for two minutes, then transfer them with a spatula to a wire rack to cool completely.
Information
Category

Desserts, Cookies

Yield

20 cookies

Total time

9 minutes, 59 seconds
Image source: POPSUGAR Photography / Kalea Martin