If you've ever baked chocolate chip cookies from refrigerated premade dough from the grocery store and wondered why they taste SO MUCH BETTER than any chocolate chip cookie you've ever made from zero, it is precisely this period of rest in the refrigerator that is the reason. This Grocery Store Pre-Made Chocolate Chip Cookie Dough Was Relaxing For days (sometimes weeks!) before cooking it.
This chocolate chip cookie recipe adds that "rest" to chocolate chip cookies; up to three days of rest and relaxation, in fact. There is nothing particularly special about the Ingredients in this chocolate chip cookie recipe. All chocolate chip cookies contain some percentage of flour, brown sugar and/or white sugar, butter, eggs and chocolate. However, what sets this chocolate chip cookie apart, what makes this chocolate chip cookie the BEST, is "the rest", such as allowing the cookie dough to rest in the refrigerator up to three full days before cooking.
You will never look back.
Don't get me wrong, these cookies will still taste amazing if you bake them right away. These are chocolate chip cookies for god's sake. But adding that resting period, along with a little sprinkle of flaky sea salt at the end, takes chocolate chip cookies to another level.
Three Day Chocolate Chip Cookies recipe first, notes and resources follow.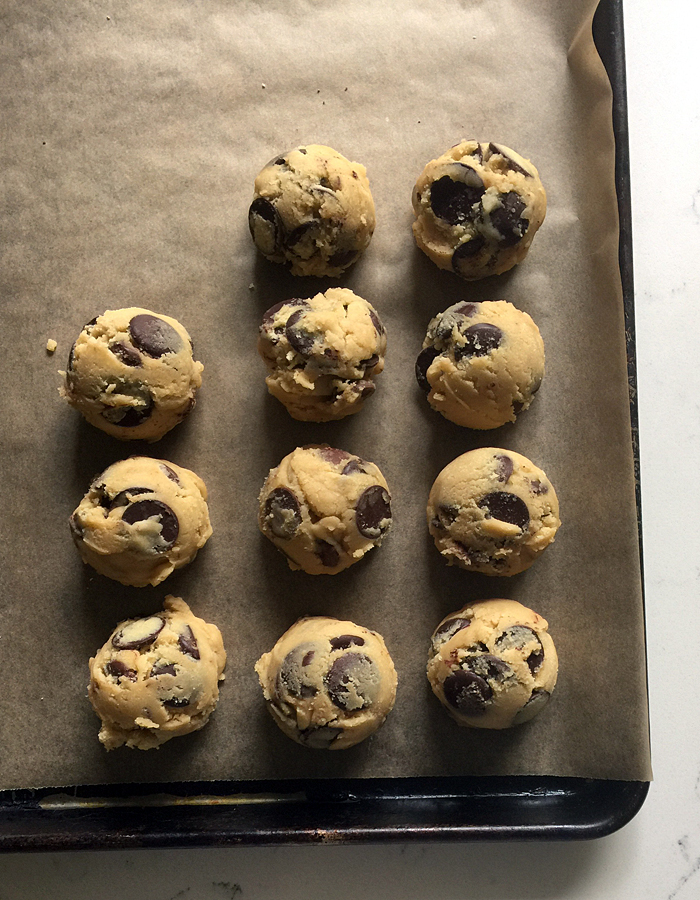 Three Day Chocolate Chip Cookies Ingredients Notes
Cake flour vs bread flour: I used this all purpose flour in this recipe. The original recipe calls for 2 cups less 2 tablespoons cake flour + 1⅔ cups bread flour, which seems too complicated for chocolate chip cookies. A commenter on the New York Times recipe page mentioned that cake flour, which is soft and fine, and bread flour, which is more solid, have on average the same percentage of protein as all-purpose flour. .
Butter: This recipe calls for unsalted butter, but if you only have salted butter, use that and reduce 1½ tsp coarse salt to ½ tsp.
brown sugar: My cookies turned out thinner and crispier than I expected, and I'll try the dark brown sugar, as opposed to the light brown sugar, next time to see if that makes a difference.
Chocolate: Of course Jacques Torres, the chef who popularized the original concept, sells his own chocolate discs for this recipe. If you can't find Torres chocolate discs, or if it seems expensive at $10 a bag, you can substitute Valrhona chocolate beans, which are easier to find as they are available on amazon, but not cheaper. I used the new Williams-Sonoma exclusive Guittard chocolate wafers because I had them on hand. If all else fails, cut a dark chocolate baking bar into large chunks. Use chips as a last resort.
Technical tips and tricks
What sets this recipe apart from all the other recipes is the fridge"rest period" for the dough, which is recommended, but in all honesty, should be obligatory. Without the rest period of at least 36 hours, the resulting cookies are no different from other chocolate chip cookies. I let my cookie dough rest for 72 hours.
I used a regular size ice cream scoop for the cookie dough, which I thought was too big. But apparently it's the right size because I weighed the ball of dough from the spoon and it's 3 ounces!
Cooking time: The recipe says 18-20 minutes. I baked my cookies for 17 minutes.
Yield: You are supposed to get 18 cookies. I ended up with 26 cookies. My dough balls weren't big enough?
Three Day Chocolate Chip Cookie Recipe
Here is the recipe, adapted from The New York Times in 2008 by Jacques Torres, with my personal modifications noted. Additional observations, results, and notes on the changes can be found in the "Notes and Resources" section that follows. makes 18 5-inch cookies
Ingredients
3¼

cups

all purpose flour **

1¼

coffee spoons

baking soda

1½

coffee spoons

baking powder

1½

coffee spoons

coarse salt

2½

The sticks

unsalted butter, at room temperature

—1¼ cup

1¼

cups

10 ounces light brown sugar

1

Chopped off

plus 2 tablespoons granulated sugar

2

large eggs

at room temperature

2

coffee spoons

pure vanilla extract

1¼

pound sterling

bittersweet chocolate discs or beans

at least 60 percent cocoa content

flaky sea salt
Instructions
Sift the flour(s), baking soda, baking powder and salt into a bowl. Put aside.

Using a mixer fitted with a paddle attachment, cream the butter and sugars until very light, about 5 minutes. Add the eggs, one at a time, mixing well after each addition. Stir in vanilla.

Reduce mixer speed to low, add dry ingredients and mix until just combined, 5 to 10 seconds. Place the chocolate pieces on it and fold them in without breaking them.

Press plastic wrap against the dough and refrigerate for 24 to 36 hours. Dough can be used in batches and can be refrigerated for up to 72 hours (three days).

When you're ready to bake, preheat the oven to 350 degrees. Line a baking sheet with parchment paper or a nonstick baking mat. Put aside.

Drop six 3½-ounce mounds of dough (the size of generous golf balls) onto a baking sheet, making sure to flip any protruding chocolate pieces horizontally; it will make a cookie more appealing. Sprinkle lightly with sea salt and bake until golden but still tender, 18 to 20 minutes.

Transfer the sheet to a rack for 10 minutes, then slide the cookies to another rack to cool a little more. Repeat with the rest of the dough, or reserve the dough, chilled, for baking the remaining batches the next day.